Monday 5/20 – Saturday 5 / 25
The Brotherhood – Spode Daddy          KTM950
                                   Uncle Byron            KTM950
                                   Uncle Kurt               KTM950       
                                   Don't call me Tad  BMW1200 GS       

Mileage ~ 1300
=========================================
MONDAY | BOISE => FIELDS ~280 miles
We met at Shari's in Meridian for breakfast. The waitress came out and took our picture. 


Don't know if Thad is excited about his new job responsibilities or the trip .
The first leg was through Murphy over the Owyhee MT's past Silver City into Jordon Valley. We stopped in Ruby City to put more layers on.
Jumping off point along HWY95 where we cut across the desert to Fields 

We were surprised to see graded roads in the "Wilderness Study Area". The folks at Fields Station told us the BLM graded the roads because wilderness groups were pushing that ungraded roads be closed. The Vale BLM office wants to keep the roads open ! Some offices are worst than The Sierra Club.
Sandy also told us while the group was hiking they called  Fields for a rescue when a couple of them got tuckered out  , she pointed out how useful roads can be when she picked them up in her truck.
The smooth surfaces made for high speed transport.

Old cow camp in "the wilderness".
Mickey Basin

Kurt, during out search for Mickey Cabin. No cabin but we found mud.

Mickey Hot Springs parking. Steen Mountain in the background.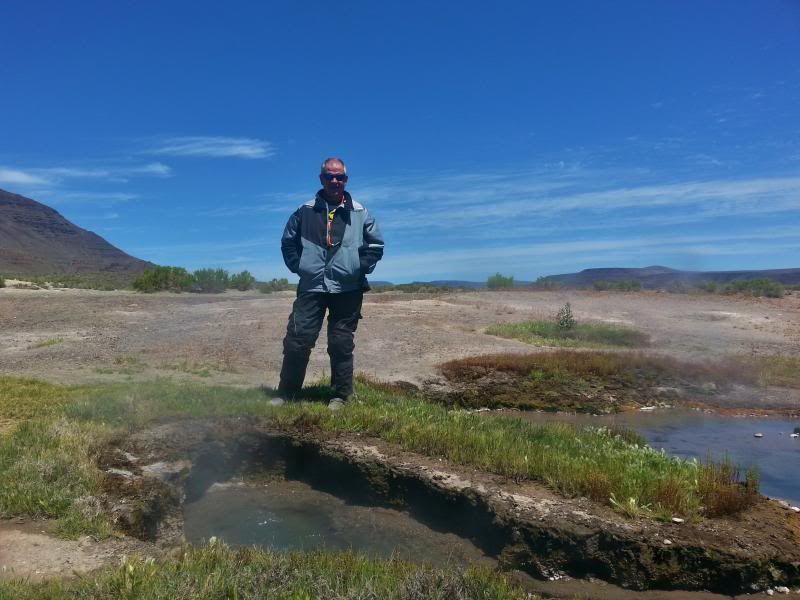 Thad and me.

Mickey Hot Springs – several basins of piping hot water.

The Alvord Desert an annual dry lake bed.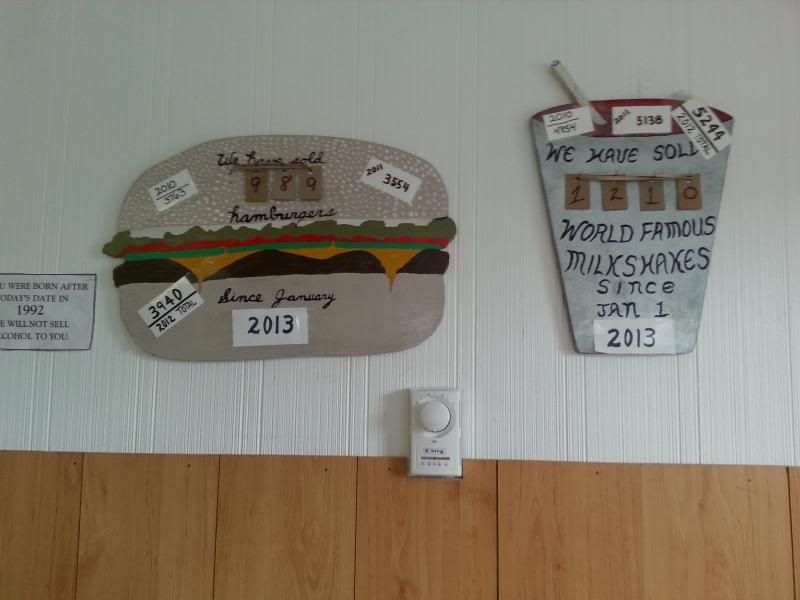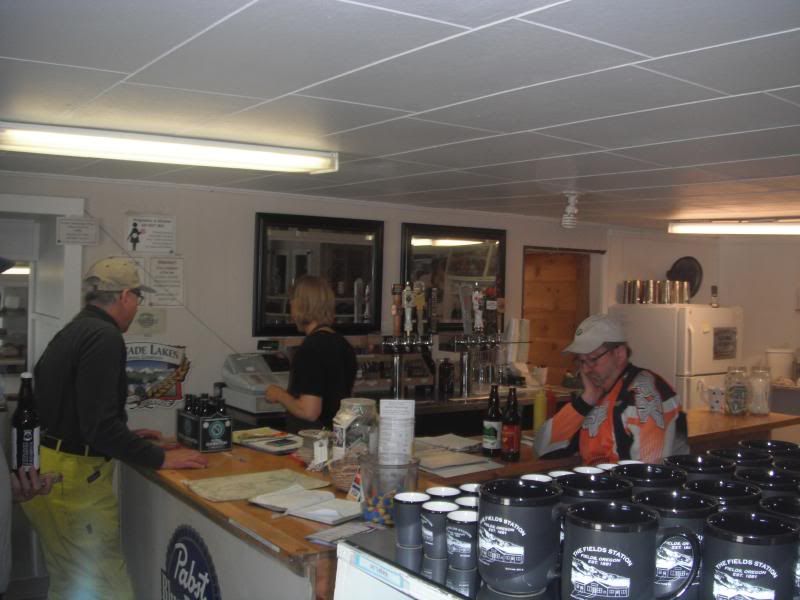 Fields Station -We had a late lunch of burgers and shakes.
The very best news is they ditched the Post Office and put in the bar !
After lunch we got our room, unpacked and sped back to desert.

Entry point onto the Alvord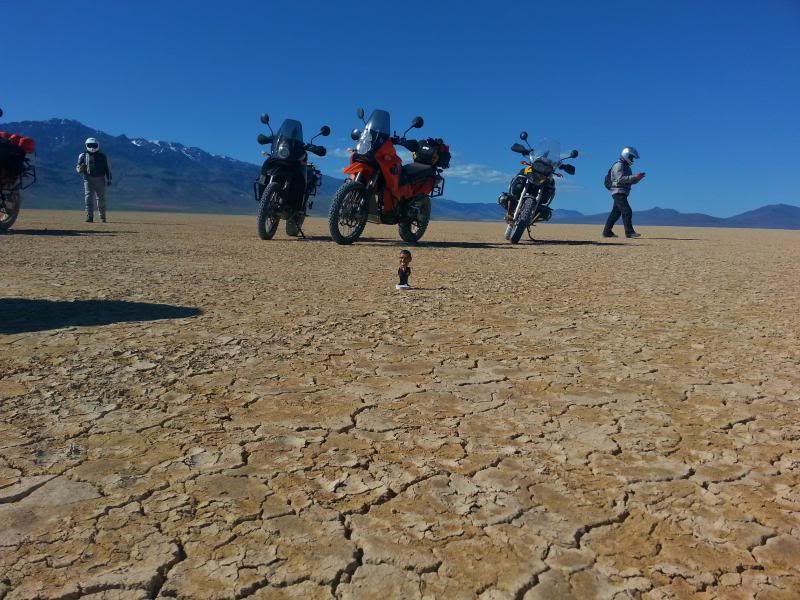 Barry  " I read about this in the news. I'll have Eric investigate. "
All day I kept noticing a head shake, while on the desert I figured out my bar risers were loose. Now that I knew what was wrong I was more self conscious so I decided to head back to the room to fix it. Byron said he would go back too, however Thad and Kurt were off exploring when we ditched them.
I got my risers fixed before the bar closed. Had a tall fresh draft beer.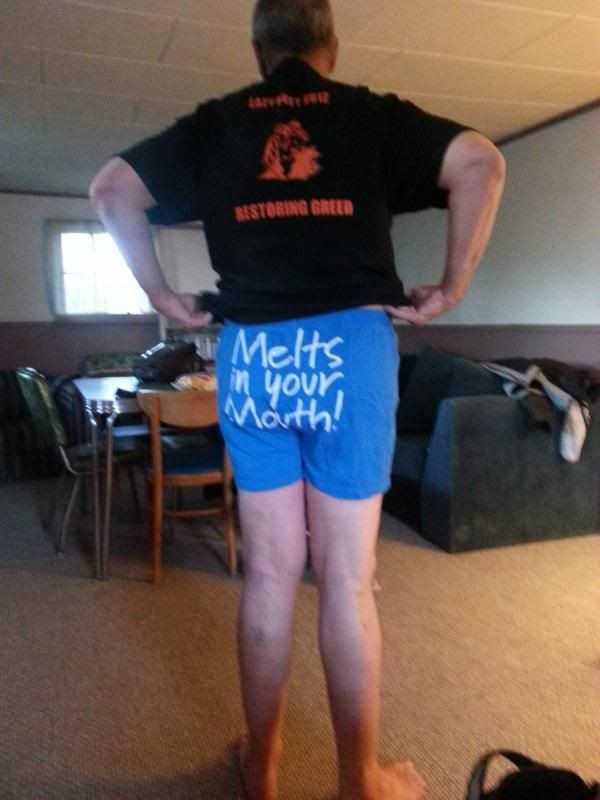 My PJ's were a hit !
====================================================================
Tuesday       Fields- Gerlach ~ 156 miles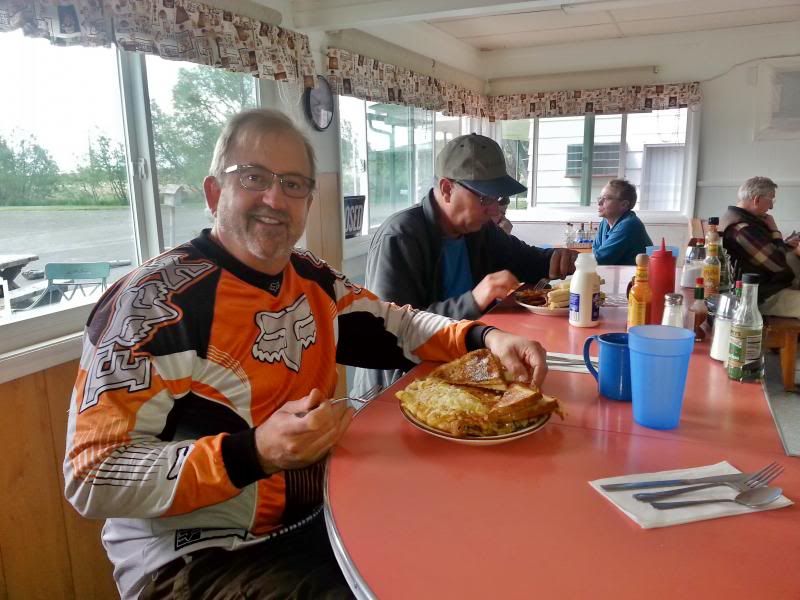 We started the day with a hearty breakfast cooked by Uncle Ray !

Our first leg took us over Domingo Pass and down the west side of the Pueblo Mountains.

Byron and me riding up Domingo Pass.
You can see forever on top.
It's true Nevada has gone Blue ( but we might still be in Oregon) !
   Wild donkey's in the Sheldon National Wildlife Refuge.
We scoped out Bogs Hot Springs near Denio , NV. 
It was very windy and cool, none of us had any desire to take a plunge.
Between the high winds and no gas in Denio , we scrubbed the trip up to the B24 crash site.

The second leg was across another desert valley.
It felt like we were in a wind tunnel. It was a struggle to maintain 45-50 mph. We kept getting blasted by sand burst and dirt devils. Felt like a scene from The Searchers.

Then at the intersection to Summit Lake we were flagged down by fellow walking down the road. 
He said his car broke down and needed to get where he could call for help. He left his blind girl friend in the car. While we were silently debating who would ride him double back to Knox Ranch and more likely Denio, a jeep pulled up. We were off the hook !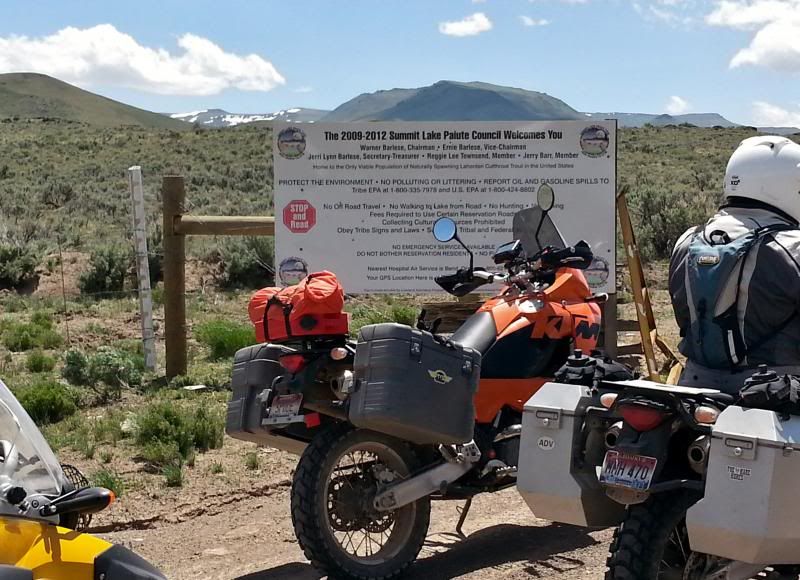 Entrance to the Indian reservation.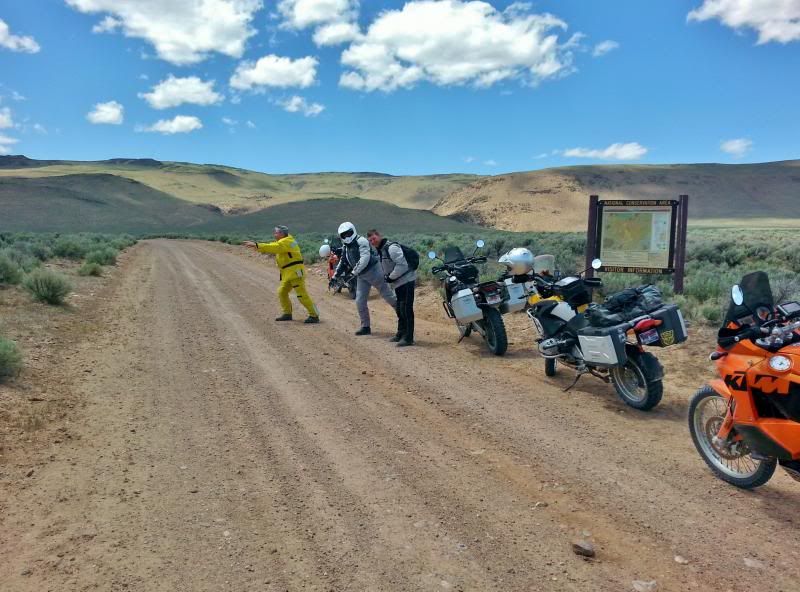 North boundary of Black Rock NCA

Start of decent into Solider Meadows.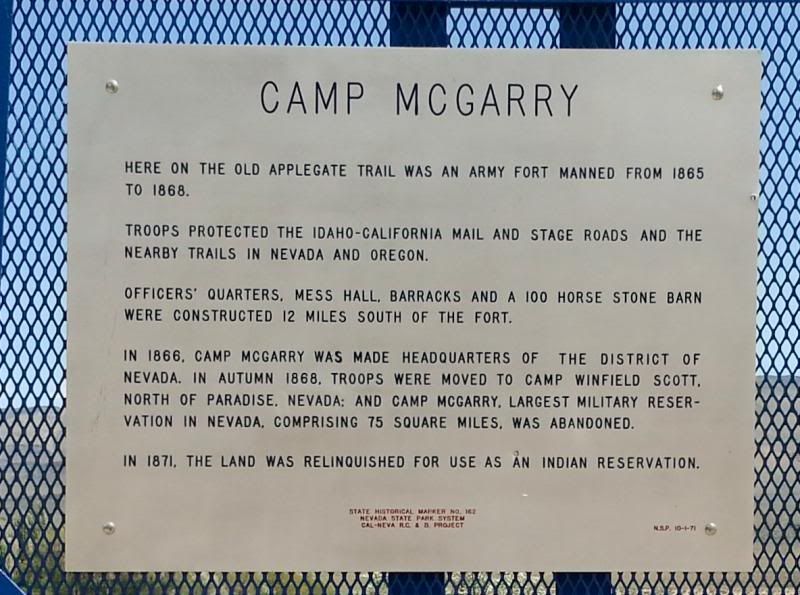 We took a lunch break at Soldier Meadows Ranch.
The cook and her husband moved from Illinois just a few weeks before. She gave a tour of the rooms.
It would be a long day but a good destination from Boise. You could arrange for gas and spend a couple of days exploring the desert without being loaded up.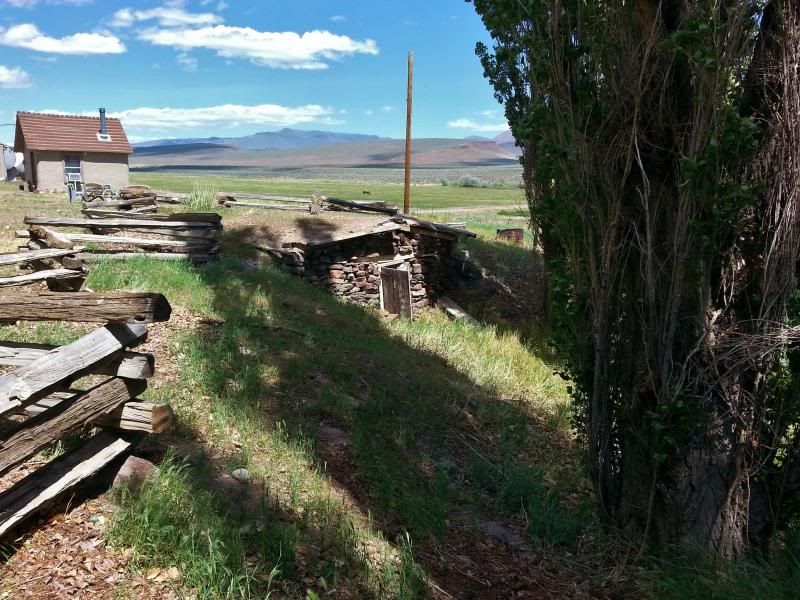 After leaving the ranch the plan was to ride the eastern side of the basin following the Applegate Trail.
The desert is a remnant of an Ice Age Lake , then Indians showed up ,wagon trains, white folks, Capitalism, Global Warming and now that we are in the 4th Term of George Bush everything has gone to shit.
Just past Mud Reservoir I realized I missed the turn.
When I stopped Byron rolled up and said he lost his clutch. We pulled the top off the reservoir and it was almost dry !
Kurt had some hydraulic fluid and filled it up. Between the clutch issue and the sand storm on the desert we decided to take the road into Gerlach.
The wind continued to howl . As it rolled over the ridges it vortexed at the bottom where the highway followed. It was almost impossible to ride.
Gerlach is small town that might be on it's last legs. The gypsum mine is shutting down loosing 300 jobs for the town.

The school might have to shut down as well.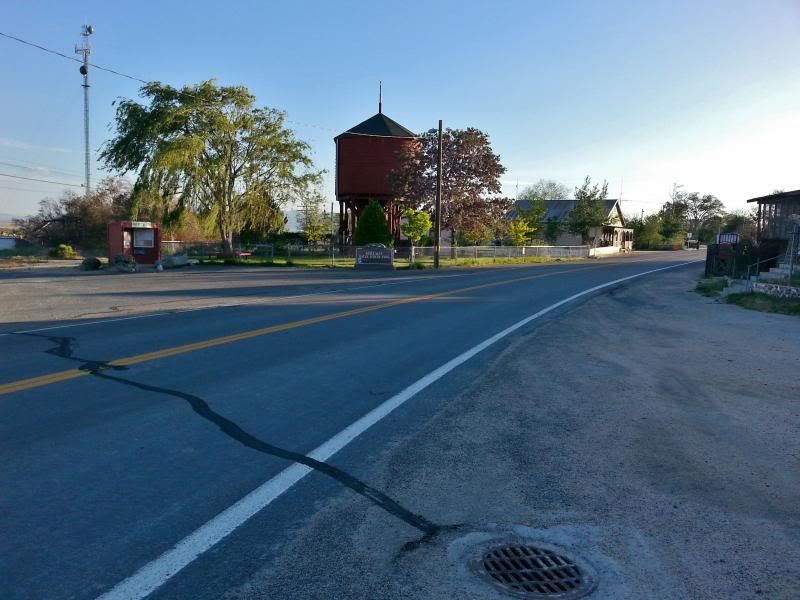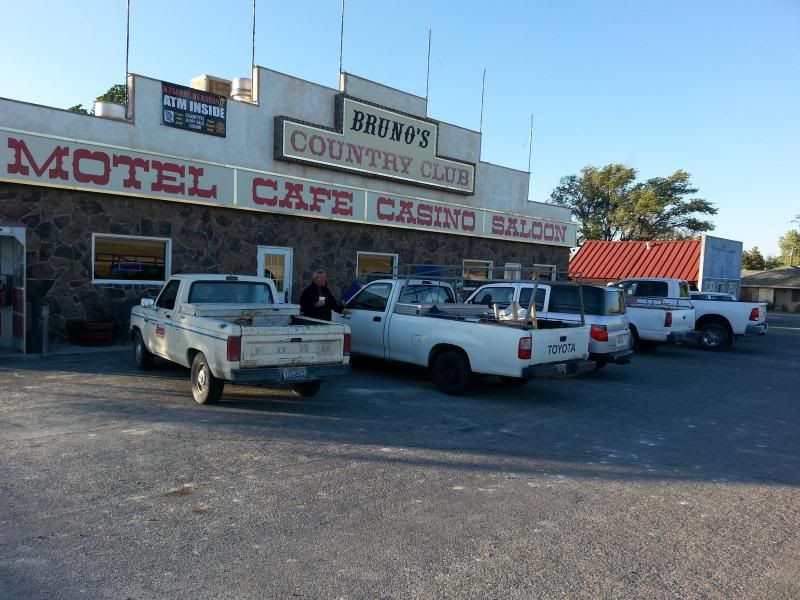 I had booked two rooms at the Gerlach Hilton – Bruno's.  You check in at the bar, the rooms are a couple of blocks down the the street.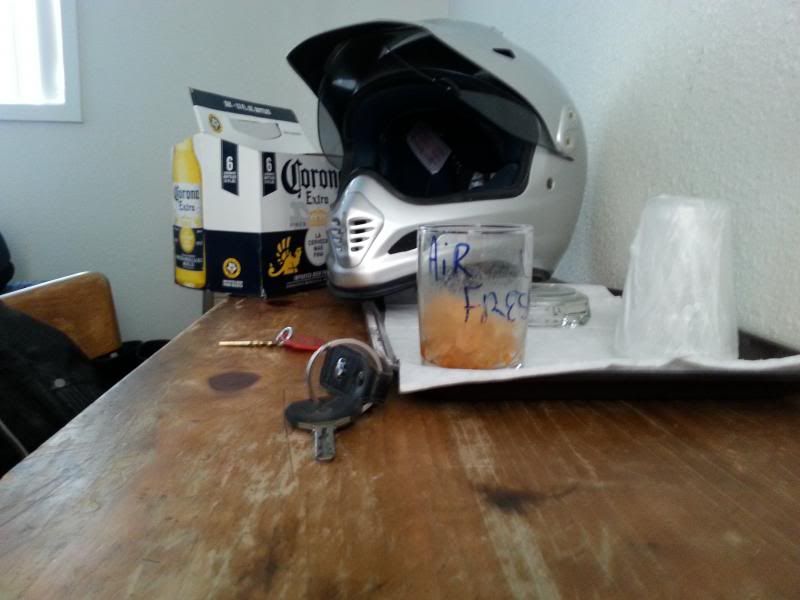 The rooms were a dump but clean and had complimentary air freshener. It was obvious we would spend the evening in the bars, but since it was Tuesday our choices was Bruno's and the Miners Club.
After dinner we spent the evening at the Miners Club with Bev and other locals.
Bev is 86 and runs the club by herself with locals watching out for her. One of them was hunter who had a lot of true hunting stories. Showed us a sheep skull and horns he found that afternoon in the mountains just above the desert.
Kurt takes great delight that the old man is sleepy !
Slept with the window open , could hear the wind howl all night night and an occasional train when it died down.
It was ~ 35 degrees in the morning but no wind.
===========================================================================
Wednesday
God Willing and the Creek Don't Rise

Gerlach – Alturas  ~ 170 miles
Byron & I woke up around 5:30-6:00 AM. Byron brewed us a shot of espresso with his portable stove.
Bruno's opened at 7AM so we didn't have to kill a lot of time this morning.

While we packed our bikes we had some chit chat with a group of fireman from Sacramento who were riding atv's.   
A couple of them had 990's.
At Bruno's you could have anything on the menu as long as it was toast , bacon and eggs.
They had run out of propane and the cook had to use a small electric grill.
Our 1st leg was on the lake bed.
We rode the highway out of town and got on the playa at the "Three mile access"
It was a cold still morning. You could see dust clouds of other vehicles in the distance.
Spode Daddy and Uncle Kurt  ~ 90 MPH up on the pegs . It was too cold to go faster or longer.
We rode about 30 miles across the lake bed and got off near Jackson Ranch. We followed the road back to Soldier Meadows.
After a bit a meandering we found Soldier Meadow Hot Springs. They were spotless not a trace of litter and the banks weren't trampled .
While we took a break. Thad read from a campsite guest book. It was hilarious , old fashion blog with all the modern drama. As we rode out of the hot springs I saw a spike buck in velvet.
Thad and Kurt descending Fly Canyon on the Applegate Trail.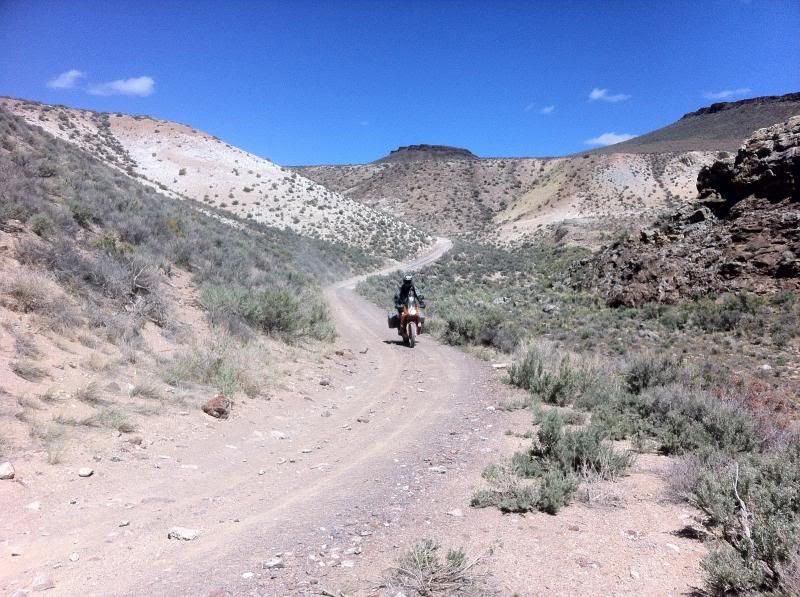 Fly Canyon dumped into High Rock Lake ,a small dry lake.
As we rode past the lake we met a Honda Element  going the opposite direction!

Entrance to High Rock Canyon. The top half is wide and sandy.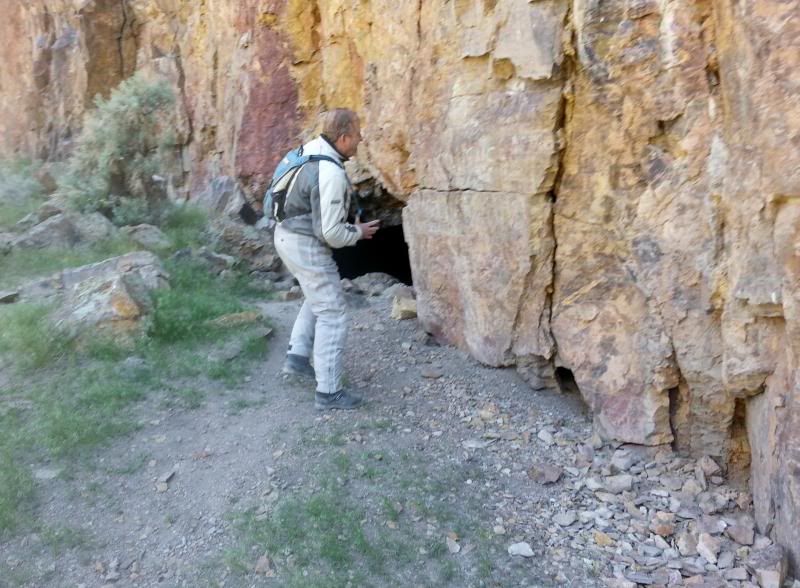 Post Office Cave. The rocks have graffiti from wagon trains. All we could see was modern scratching's.
Thought we were at the wrong spot should of kept looking.
Image on the web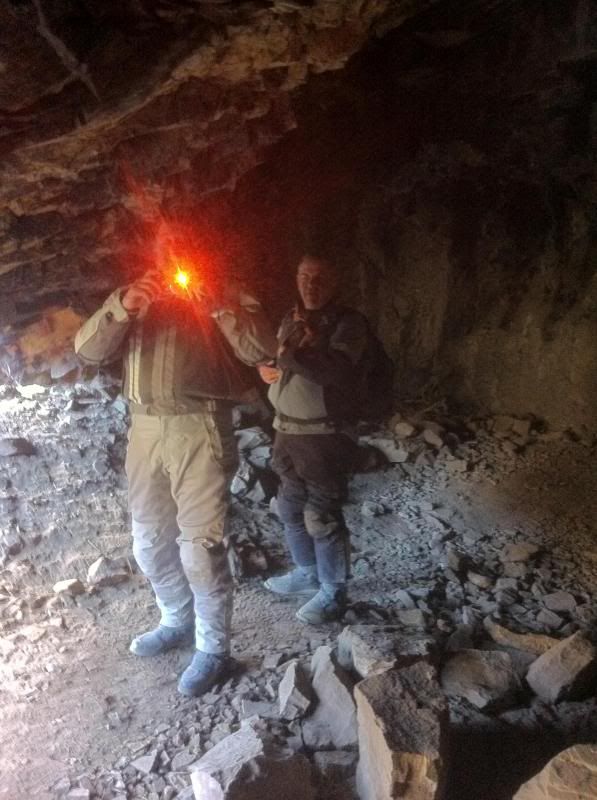 Inside the cave

Shortly after The Post Office the canyon narrowed. Had a short technical climb ( for a loaded 950 ) then dropped back to the floor with a couple of steps to roll off.
Then we had this long water puddle to cross.
As I pulled up Byron took off before I could scout it out. He went down the right side of the photo hit some rocks and went cross ways and dropped his bike.
We picked his pick up  but it wouldn't start so we pushed it out of the water to a dry spot.
The rest of use crossed hugging the cliff.
Byron unloaded his bike to get access to a jumper post under his seat.
Using the bemmer to jump the bike.
The jumpers was a small gauge set Byron had made. The bike would only crank a couple of times then nothing.
The cables got red hot.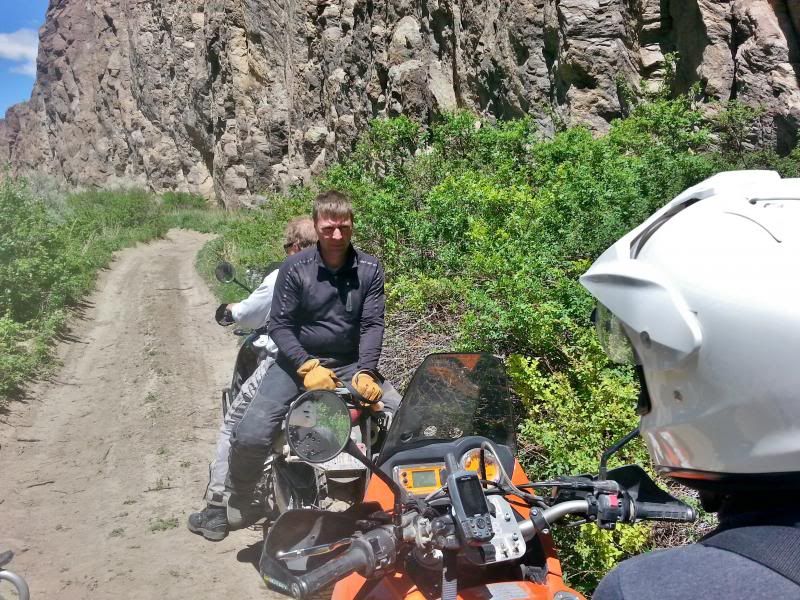 Plan B – bump start the bike.
For some reason Thad thought it would be a grand idea to sit backwards on Kurt's 950 and hold the tow strap.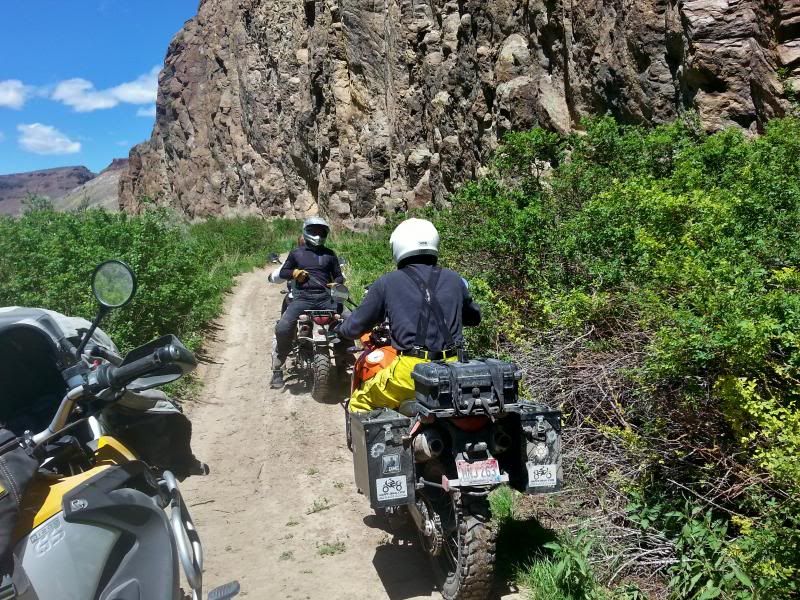 Of course we didn't have enough speed to turn over the engine.

Plan C- Byron dropped the skid plate and crash bars to get get direct access to the battery.
Still no luck getting enough juice to crank the bike.
Just as we finding a place to stash the bike and let Byron ride bitch, the fire fighters rode up on their ATV's.
Byron used one of the ATV's to jump. The bike started and ran. But it didn't sound right and died when the jumpers were removed.
We then decided to have Byron ride out in a Razor to the end of the trail, Stevens Camp. He grabbed a his tank bag and a few things out of his panniers.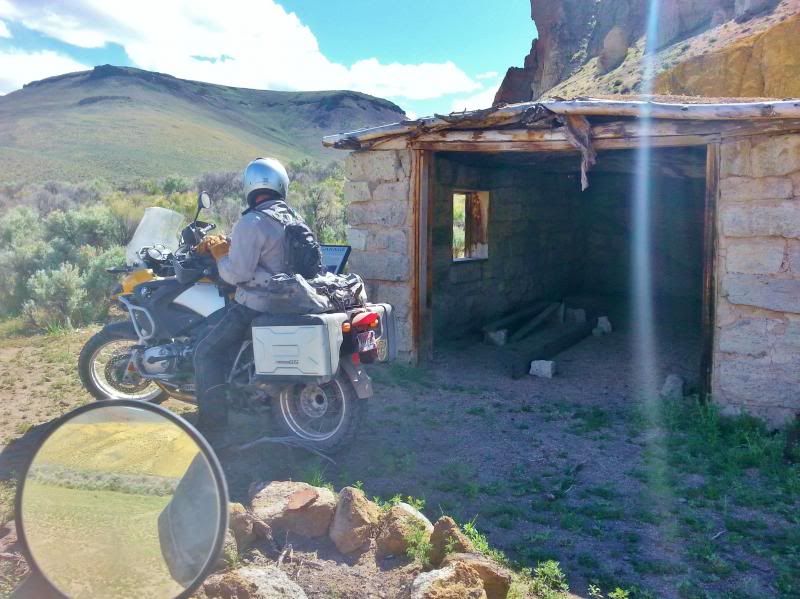 High Rock Garage part of a homestead in the early 1900's.
When we got to Steven's Camp , Kurt told us he dropped his  bike in another crossing and got wet. Needed to change his clothes.  I saw Thad's track and followed them on the left side. Kurt sad he went right and got tangled in a submerged sage brush.
I made a quick move and strapped Byron's gear on my bike, so Byron could ride double with Kurt !

The ride into Cedarville was beautiful !

We bought gas at a garage in Cedarville. I found the owner and asked where we could get a motorcycle battery.
He said the NAPA store in Cedarville just closed down  a few weeks before and we would have to go into Alturas another 30-35 miles.
In Alturas we found the NAPA store. It looked promising ,they had motorcycle tires in the front window. 
The guys wanted top shelf lodging after Bruno's and the long slow day. They picked the Best Western.
I called Rim Rock Motel in Lakeview, OR where I had booked  2 rooms for the night. Told the clerk ( owner ?) we had mechanical problems and would not make it. He said no problem no charge !
We changed into dry clothes and had dinner at Agave Azul Mexican Restaurant. Great place.
Thad with a new found appreciation for BMW's and 4-wheelers !
=======================================================================
Thursday
"Making memories . Remember when Byron used ride with us ? " Uncle Kurt- May 16, 2013
Mileage ~ 180 miles
It was around 30 deg when we woke up and overcast.
After breakfast Byron called NAPA and confirmed they had a battery that would fit his bike.

We missed  the scattered showers as we rode back into Cedarville .
Kurt and I wanted to leave our gear at Steven's Camp.
Bob, from Reno, was there. He came in Tuesday to claim the cabin for the Memorial Day weekend.
We told him our story and he offered up his ATV for the task. He said just use it  as he wasn't up for an adventure that morning.
Byron and Kurt rode double on Bob's ATV.
I had to use the outhouse and told them I would catch up.
I caught up with them at "The Scoop" where Kurt dropped his bike in the water.
I went through first.
Thad went next, as he climbed up the bank the bike bogged down.
Thad said if felt like it was "sparking out".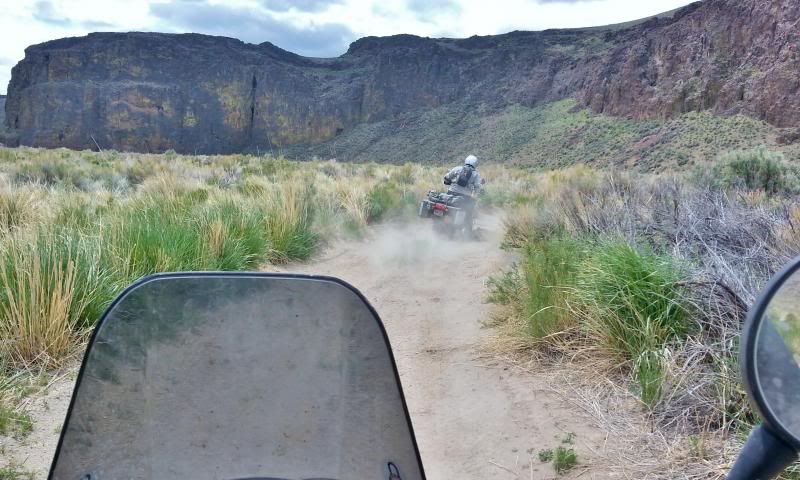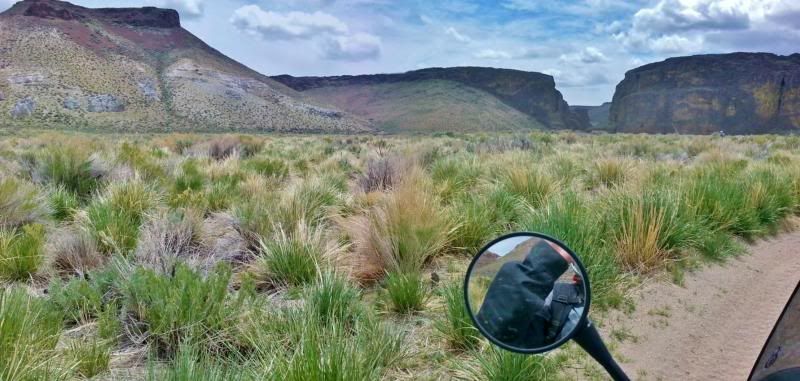 The intersection of Pole Creek and High Rock Canyon.

As Byron started to work on his bike the wind picked up and storm clouds rolled in.
As Byron worked the wind would come and go with short periods of sprinkles and snow flurries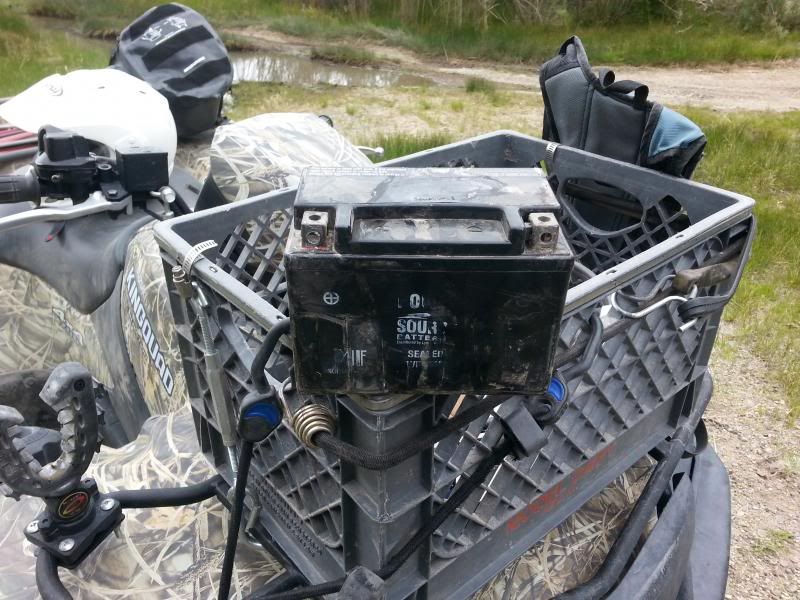 When Byron pulled the battery it was swollen.
We took it as a good sign that the battery was the soul source of the problem.
Using the best Juju at hand we wouldn't let Byron touch the starter until he had the bike back together , and all his gear on including his helmet. The bike fired right up and idled fine.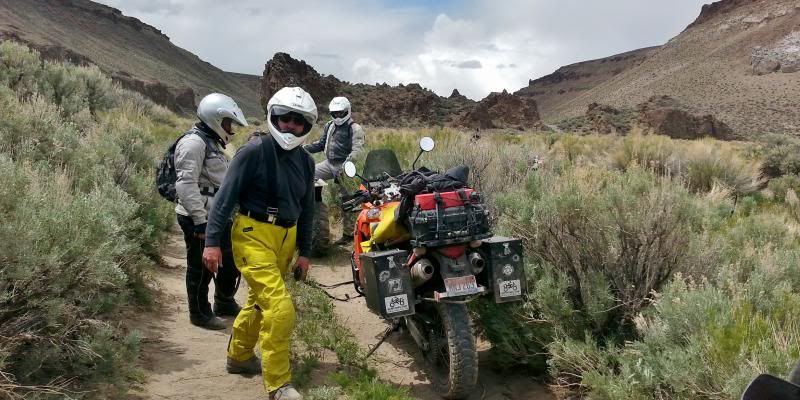 Byron rolled across the creek and another 200 yards the bike died and would start but didn't sound right.
We looped two tow straps together. Byron tied it off to his crash bars.
Pretty quickly he got comfortable standing on the pegs while being towed.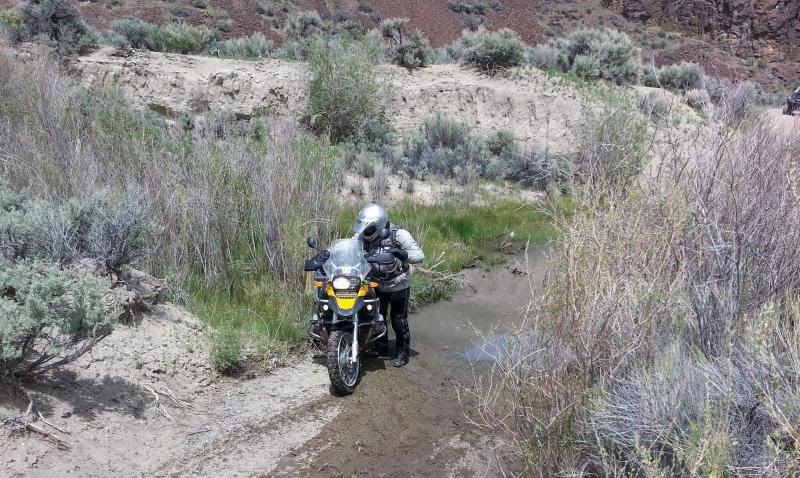 Back at The Scoop the BMW completely died just as it rolled out of the water and would not start.
Thad said we could push it up the bank but we figured that out in a couple of steps. We had Kurt drive though to give us a tow. Just as he crossed the BMW started !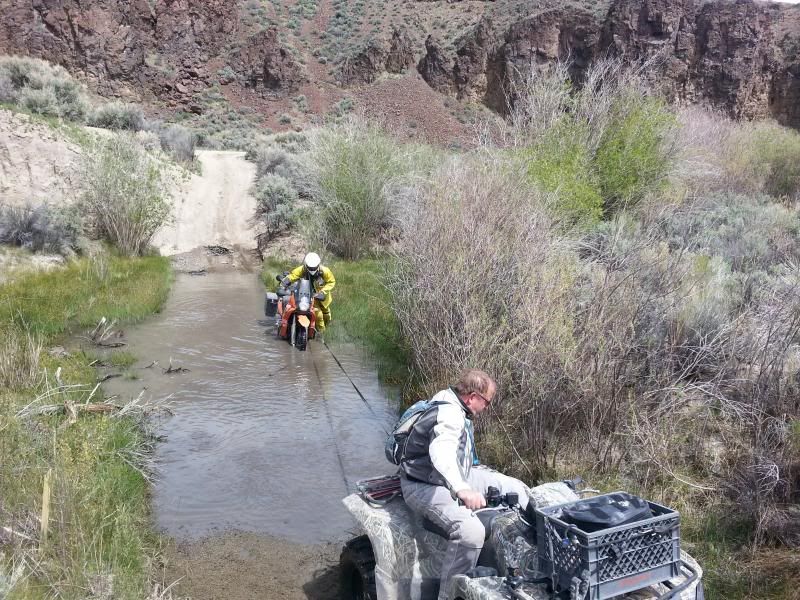 Byron played it safe and walked the bike across.
I rode ahead and had a blast on the trail without my luggage.
I practiced my Jimmy Drills , braking , skidding the front wheel , sliding through turns, hopping off water bars.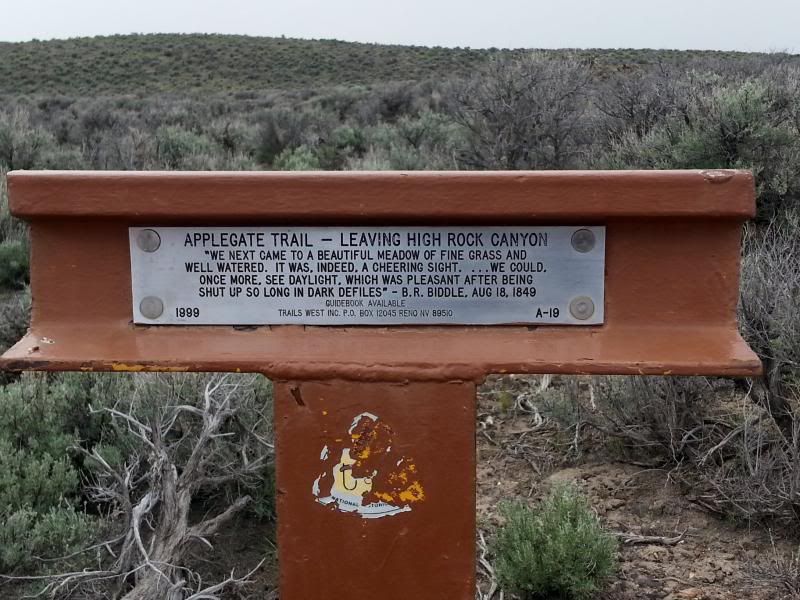 While waiting near the end of the canyon another snow squall blew in so I decided to ride up to the cabin to get get out of the wind.
I must of hung out 45-60 minutes with Bob.  He was starting a fire just as I got there. Bob says the cabin is first come first serve, no charge. It's about 200 miles from Reno. They come up a couple of times a year. The cabin is wired with lights and plumbed for propane with a water heater. The water source is a spring up the hill. If you have a generator and propane bottles you can have lights , hot showers and a cook stove.
Bob had Byron roll his bike on the porch.
We had to ride Nevada County Road 8A for the 3rd time, it's straight as an arrow , 75 mph gravel road.
The Cedarville the garage owner thought Byron could get a U-HAUL in Alturas, so back we went. Scouted around for U-HAUL trucks but none in sight. The motel clerk said we would have to go to Lakeview , 60 miles away.
Byron had his wife book a truck online for him. Decided on dinner at Mexican restaurant again.
====================================================================
Friday | Alturas – John Day
"Well, there are some things a man just can't run away from." - JOHN WAYNE | Stagecoach (1939)
Mileage ~ 315 miles
Friday morning it was 24 degrees ! It was sunny and still , seemed to be warming up quickly.
Byron called and confirmed he had a truck.
My turn for bromance, hauling Byron into Lakeview.
After a couple of blocks I had to give my pack to Kurt to make more room on the bike. It was about a 60 mile ride into Lakeview Mile Hi Tire and Service. Kurt had hauled Byron~ 300 miles the previous two days. Thad was off the hook because his BMW had single saddle.
Mile Hi had non-ethanol gas. When I went inside to pay , the clerk said "Your bike must be running !"
I told her yea ,we've been hauling Byron all over the desert the last three days. She just howled " That's just like WILD HOGS !"
After we gassed up and made sure Byron had his truck we rode into Adel .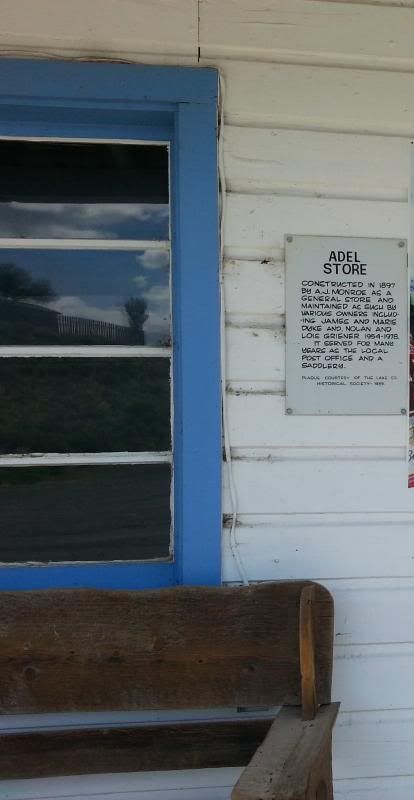 We had a early lunch in the store.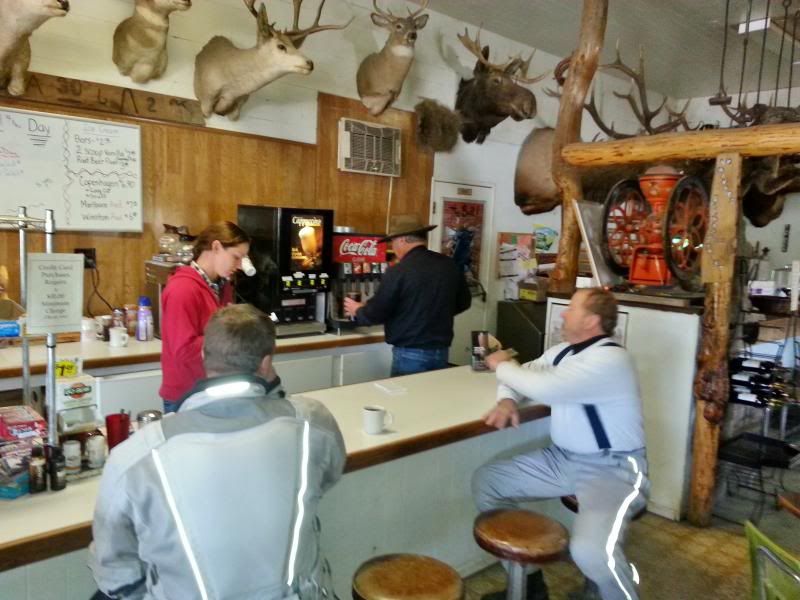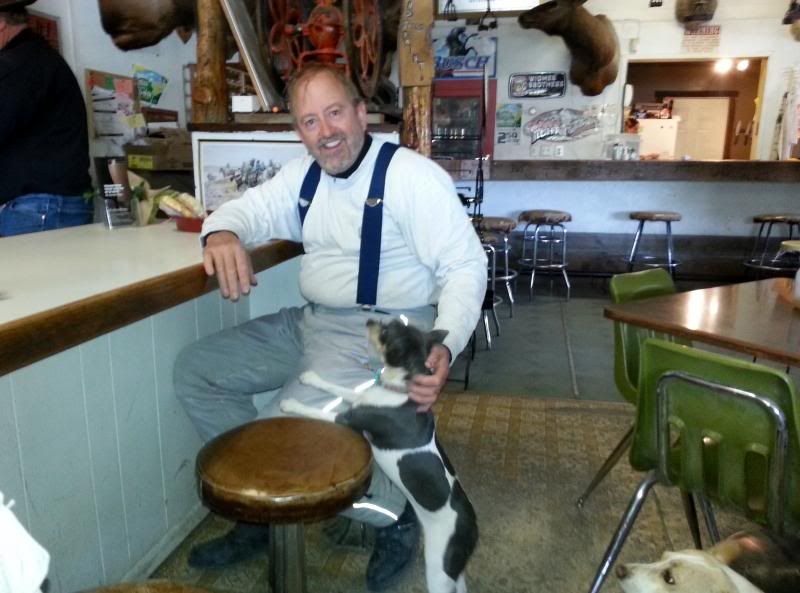 The young girl bought the store from her grand dad, the fellow in the hat.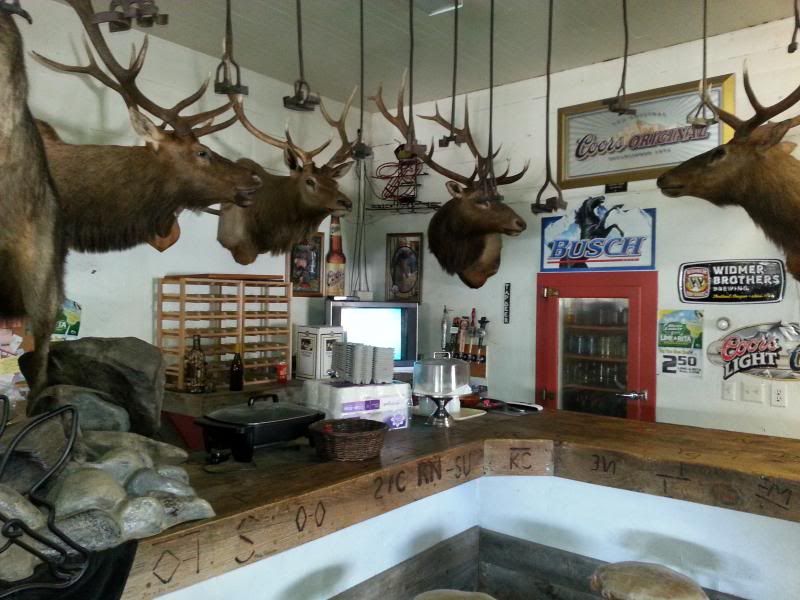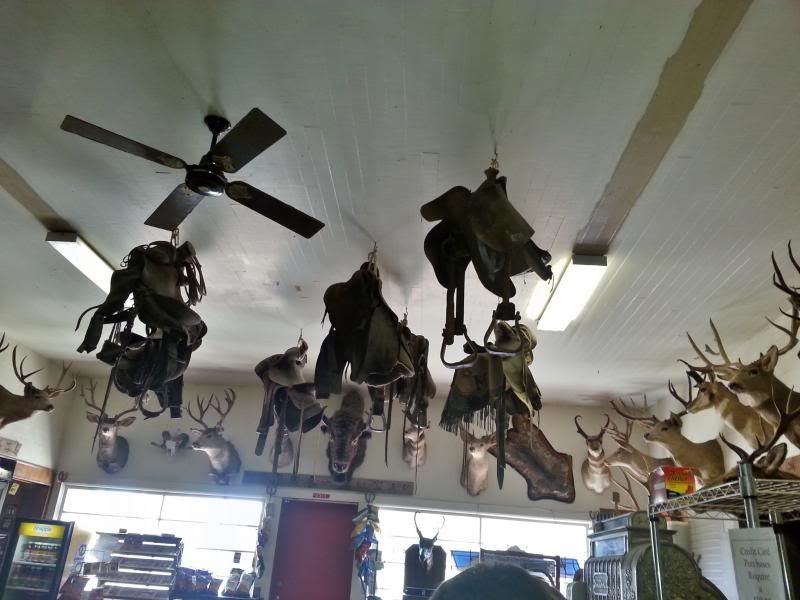 After lunch we rode though Waner Valley  ,another Ice Age lake bed.
A nice looking road that goes to a canyon on Hart Mountain, but closed to the public.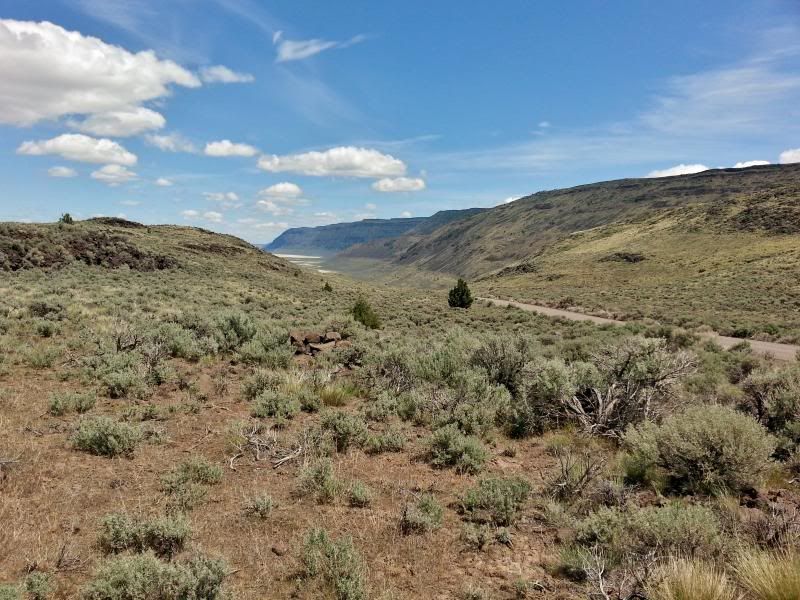 From this overlook you can see the shore line of the Ice Age lake.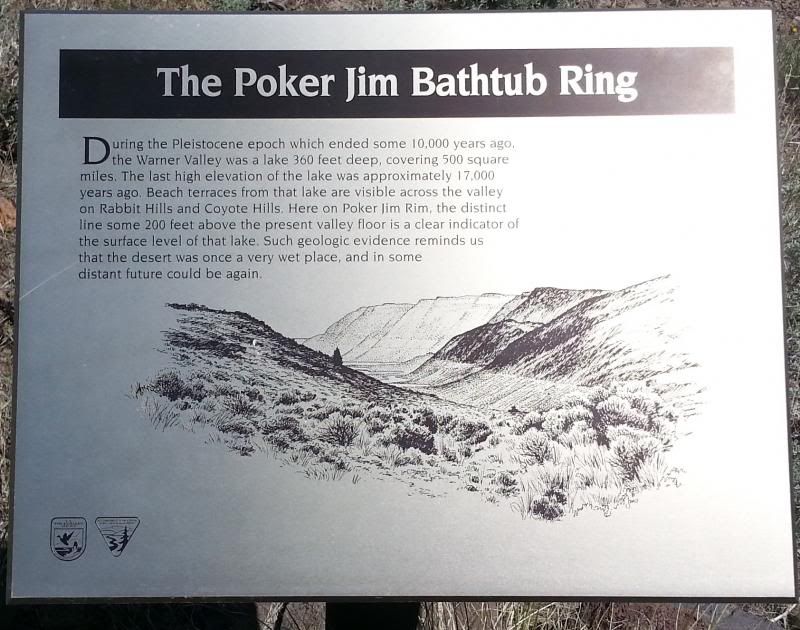 It was a long and boring ride across the refuge's gravel road to HWY 205. Hard to believe Byron's marriage survived a vacation to Hart Mountain.  
At the HWY205 intersection we decided to ride all the way into John Day.
The clerk at the Best Western helped find a room at the Dreamers Lodge it was block off the highway.
We called Byron and got an update. He said Bob's family and friends helped load the bike.
He said the place was hopping ,a group of a dozen dirt bikes rode by when they were loading his bike.
After an evening of watching chimney sweeps fly into a chimney. We planned our route home for Saturday. 
=========================================================================================
Saturday | John Day – Boise ~ 200 miles
Everybody was ready to get home at decent time on Saturday.
We caught FSR 13 out of John Day. Most of it is a paved road the meanders through the Strawberry Mountains back to HWY 26 which took us to Vale.  HWY 26 has a posted speed limit of 55 MPH , like all the back roads in Oregon. Most the locals drive 75 MPH so I never knew what speed to drive while on pavement in Oregon ( such a weird state ).

Had lunch at the Dairy Queen.
Thad checked looked for 22 mag ammo at the drug store. He the shelves were pretty bare, they said they hadn't seen 22's in a while.
 We rode over Keeny Pass to Nyssa then Caldwell . We split up right before I84. 
I got home  around 2PM. I was pooped , six days without a rest day is too long for an old man. I was starting to fade on Saturday not as alert as I should had a been.
I was great trip. I want to do more exploring in the Great Basin Desert of central Nevada.